The patent of penoxsulam is expiring on 22 Sep. 2017 in China, which excites most of the enterprises who paid long attention to its patent. However, the blocking patents about penoxsulam are still a task for producers in China, according to analyst CCM.


Source: Bing
Penoxsulam, developed and produced by Dow AgroSciences LLC (Dow AgroSciences), is a trizolo pyrimidine herbicide applied in paddy fields with the widest herbicidal spectrum. It has great effect not only in aquatic weeds control but also in barnyard grass which has resistance to herbicides like quinclorac, propanil and sulfonylurea. With aquatic weeds' higher resistance, penoxsulam plays a more vital part in weeds control.
Penoxsulam was registered in US Environmental Protection Agency in 2004; later in 2005, it got promoted and applied in paddy fields in the southern US in 2005.
In 2006, penoxsulam was used in Spain, Brazil, Columbia, South Korea and Thailand.
In 2007, it was registered in Japan and China. In 2009, penoxsulam finally entered the China's market.
"After years of development, penoxsulam enjoys a very potential future in the market," stated Chen Zaoqun, chief editor of Herbicides China News, CCM.
In fact, when penoxsulam first came into the market, the global sales volume was less than USD10 million, but in 2009, the sales volumes reached USD110 million. In 2013, the sales volumes even climbed to about USD255 million.
Penoxsulam also has great performance in weeds control in non-crop market such as in lawns and in orchards. In 2013, the sales volume of penoxsulam applied in non-crop market reached about USD140 million, which surpassed that of those applied in paddy fields, USD110 million.
Currently, most of the penoxsulam is applied on paddy fields and the paddy cultivation countries are mainly in Asia-Pacific and East Africa. Those markets belong to middle and low-end market, thus, it is not difficult for enterprises to register penoxsulam products.
"Thanks for penoxsulam great effect in weeds control in the post-emergence of plants, it would be kept on needing in the market and it would be consumed most in Asia-Pacific in the next five years," Chen commented.
Global sales volumes of penoxsulam (Unit: USD100 Million)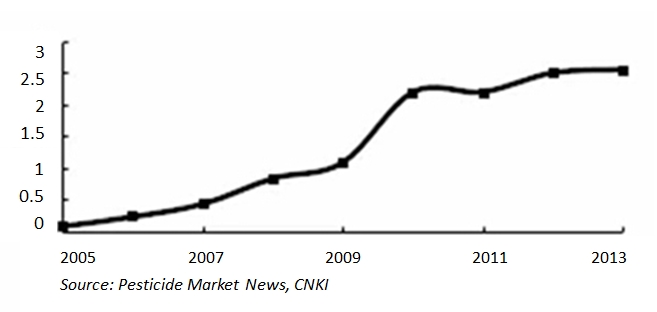 It was once reported that patent protection of penoxsulam chemical compounds would be expired on 22 Sep. 2016, which excited the enterprises which had paid long attention on penoxsulam. However, after CCM's verification, the real expiration date would be 22 Sep. 2017 for its patent was registered in China on 23 Sep. 1997.
In order to capture the big market of this potential herbicide, many of the pesticide enterprises had already began to apply the pesticide registrations for penoxsulam and carry out relevant trials.
There are 245 formulations and 130 mixed formulations of penoxsulam registered in field trials by 12 June 2016, according to Institute for the Control of Agrochemicals, MOA (ICAMA).
"It could be foreseen that there must be an intense competition among the pesticide enterprises after the expiration of patent of penoxsulam," stated Chen.
"Though it is still a year away from the patent protection expiration of penoxsulam, it should be noticed that the patent of penoxsulam is not only about its technical, but also about its other blocking patents,"
What is blocking patent indeed? According to Harvard Journal of Law & Technology, a typical example of a blocking patent scenario is as follows: (We make the example be about penoxsulam)
A obtains a patent on penoxsulam. Several years later, Company B discovers a new process for using A's penoxsulam, and this discovery constitutes a patentable invention itself (the process is novel, nonobvious, and has utility). The resulting two patents held by A and B cover overlapping aspects of the same invention: (i) penoxsulam and (ii) a particular process for using penoxsulam.
A can thus exercise her right to exclude B from using her patented penoxsulam in commercially exploiting his new process, regardless of B's inventive act in discovering a new use for A's penoxsulam. In this situation, A has a "blocking patent," because she can block B's use of his own patented process. (B can also exclude A from using his process, but A has the greater scope of exclusivity here, because she has a prior claim in the product, which she can continue to use as long as she avoids B's patented process.)
"Thus, if the raw material and technology in the penoxsulam production process infringe the blocking patents, the enterprises would be very passive in producing," Chen commented.


China has its first patent application involved penoxsulam in 1997. Due to the application written in penoxsulam's compound of the general formula, it didn't get wide attention. Till 2005, the number of patent applications involved penoxsulam began to increase, which may be attributed to the penoxsulam registration in the US.
With good performance of penoxsulam in the market, the patent applications rose again in 2012. Due to the approaching expiration date of penoxsulam and its excellent market performance, more and more enterprises focus on penoxsulam, according to CCM analysis.
Appliers for patents involved penoxsulam in China
| | |
| --- | --- |
| Appliers | Number of application |
| Dow AgroSciences LLC | 72 |
| Huizhou Sino-quick Chemical Co., Ltd. (Huizhou Sino-quick) | 48 |
| BASF SE | 23 |
| Bayer CropScience (China) Co., Ltd. | 15 |
| Jiangsu Rotam Agrochemical Co., Ltd. (Rotam Agrochemical) | 12 |
| Beijing Yoloo Pesticide Co., Ltd. (Yoloo Pesticide) | 9 |
| Shaanxi Sunger Road Bio-Science Co., Ltd. (Shaanxi Sunger Road) | 6 |
| Syngenta Crop Protection Co., Ltd. | 5 |
| Shandong Binnong Technology Co., Ltd. | 4 |
| Shanghai Lianbao Cropsciences Co., Ltd. | 4 |
| Jiangsu Fuding Chemical Co., Ltd. (Fuding Chemical) | 4 |
| Changzhou University | 3 |
| Kumiai Chemical Industry Co., Ltd. | 3 |
| Ishihara Sangyo Kaisha, Ltd. | 3 |
| DuPont Agricultural Chemicals Ltd. | 3 |
| Qingdao Hailir Pesticides & Chemicals Co., Ltd. | 3 |
| Jiangsu Dongbao Pesticide Chemical Co., Ltd. | 3 |
| Heilongjiang University | 2 |
Source: Pesticide Market News, CNKI
The number of patent applications of top 10 appliers reached 198, accounting for over 60% of the total patent application of penoxsulam in China. That's to say, the patent application involved penoxsulam was quite concentrated in China.
Dow AgroSciences, leader in technology development of penoxsulam, owns the most applications about penoxsulam, including the patents about compound of the general formula, preparation methods of compounds, intermediate, preparation methods of intermediate, formulations of compound, new use of compounds, mixed formula of compound and compound compositions.
Huizhou Sino-quick, Jiangsu Rotam, Yoloo Pesticide and Shaanxi Sunger Road, major patent appliers in China, mainly applied for the patents of compound compositions and formulation.
Though foreign agrochemical giants like BASF and Bayer applied the patents about penoxsulam, the patents were not about the development of penoxsulam itself, but the technology of mixed compounded contained penoxsulam.
As for Jiangsu Fuding, Changzhou University, Heilongjiang University, their patent applications were about the preparation methods of penoxsulam and further modification of penoxsulam compound of the general formula.

Considering the time when Dow AgroSciences applied patents about penoxsulam, it may extend the patent protection period for penoxsulam virtually, because Dow AgroSciences covers almost all the patents in the production process of penoxsulam technology project. That's to say, Dow AgroSciences has applied various blocking patents of penoxsulam to protect its development on penoxsulam.
According to ICAMA, 6 producers in China have already gained the registrations in producing products contained penoxsulam. Some penoxsulam products have the patent protections while some haven't. Though Dow AgroSciences patent about penoxsulam technical is expiring, many of the blocking patents are still protecting its production of penoxsulam.
"For those enterprises which are planning to capture the penoxsulam market, it is important to pay attention to the technology that are still in patent protection period, which could prevent themselves from getting into trouble," suggested Chen.
More related information in CCM's Online Platform
If you want to know more about information about penoxsulam in China, you can enter our Online Platform for it.
It mainly concludes:
Newsletters: You can catch the latest news about penoxsulam, including the Suppliers, traders, consumers, price, export, import and government policies and so on.
Market data: You can get the accurate numbers in the target industry, including the data of the industrial the data of Industrial Productions, Price, Consumptions, Manufacturing Cost and Others.
BOON: Now you can enjoy the free trial in the Online Platform for 7 days. If needed, welcome to contact us directly by emailing emarket29@cnchemicals.com or calling +86-20-3761 6606.
About CCM:
CCM is the leading market intelligence provider for China's agriculture, chemicals, food & ingredients and life science markets. Founded in 2001, CCM offers a range of data and content solutions, from price and trade data to industry newsletters and customized market research reports. Our clients include Monsanto, DuPont, Shell, Bayer, and Syngenta. CCM is a brand of Kcomber Inc.
For more information about CCM, please visit www.cnchemicals.com or get in touch with us directly by emailing econtact@cnchemicals.com or calling +86-20-37616606.
---
Reads

(1307)

Permalink