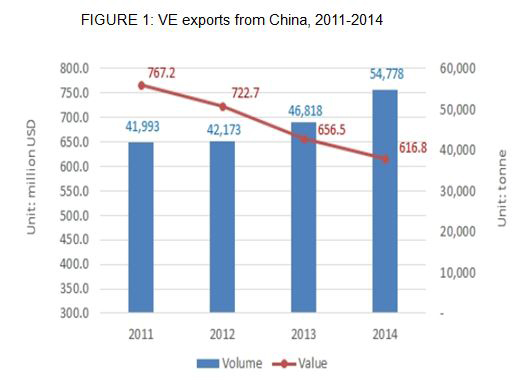 Source: China Customs
China's Vitamin E industry witnessed a downturn in prices and a decline in gross profit margins in 2014 due to weak demand from downstream markets, and competition in China's domestic market is likely to remain fierce this year, according to new research by market research firm CCM.
2014 saw the price of Vitamin E fluctuate wildly. In this piece, we'll take a look at what exactly made 2014 such an unpredictable year for China's Vitamin E industry:
March 2014: Vitamin E manufacturers push up prices in China
In March 2014, DSM shut down production to undertake a major overhaul of its production line and Zhejiang NHU Co., Ltd. also raised its quoted price for VE. Together, these events pushed prices up to about USD17,924/t in April.
June 2014: Weak demand and the start of a price fall
Prices began to fall in June because of abundant supply and weak demand from downstream markets. According to CCM's research, the average market price of VE fell from USD13,346/t in October 2014 to USD10,365/t in January 2015.
November 2014: RMB vs. Euro
The Chinese Yuan appreciated over 10% against the Euro in November, which had a negative impact on China's Vitamin E exports to Europe.
January 2015: A slight boost in price
VE prices were boosted slightly in January as several manufacturers undertook plant maintenance, but prices are still expected to drop slightly overall.
Domestic and international demand for Vitamin E
Throughout 2014, VE supply greatly exceeded domestic demand, and this will put manufacturers under a great deal of pressure in 2015. For example, Jilin Beisha Pharmaceutical Co., Ltd. transformed its VE production line in 2014, increasing its capacity from 1,000t/a to 10,000t/a, but isn't currently reaping the rewards of this expansion.
According to data from China Customs, VE exports increased between 2011 and 2014, but its export value continuously decreased over this period, indicating that the profitability of Chinese VE products is weakening in the international market. Indeed, industry insiders that we have spoken to have suggested that the gross profit margins of domestic VE industry have fallen from 70% in 2008 to less than 40% in 2014.
FIGURE 2: Main export destinations for China's VE, 2014
Source: China Customs
About CCM
CCM is dedicated to market research in China, Asia-Pacific Rim and global market. With staff of more than 150 dedicated highly-educated professionals, CCM offers Market Data, Analysis, Reports, Newsletters, Buyer-Trader Information, Import/Export Analysis, and Consultancy Service. For more information, please visit http://www.cnchemicals.com
Guangzhou CCM Information Science & Technology Co., Ltd.
17th Floor, Huihua Commercial & Trade Mansion, No.80 Xianlie Zhong Road, Guangzhou 510070, China
Tel: 86-20-37616606
Email: econtact@cnchemicals.com
This article was provided by CCM, a leading provider of data and business intelligence on China's chemicals market.
Contact us:
---
Reads

(4941)

Permalink