The recent crash in China has wiped trillions of dollars off the value of China's two main stock exchanges in Shanghai and Shenzhen. Between June 12 and July 10, each exchange lost 25% and 33% of its value respectively.
Many of China's leading glyphosate producers are publicly listed, and they have not escaped the fallout. Here is a quick roundup of how badly each has been affected and the tactics they have adopted in an attempt to mitigate the damage: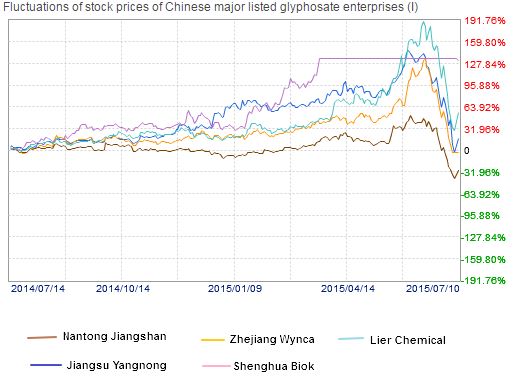 Source: Sina.com.cn
Nantong Jiangshan
Nantong Jiangshan's stock price has plunged 48% in the past month, from USD7.19/share (RMB43.97/share) to USD3.48/share (RMB21.25/share).
On July 10, the company made an announcement with three key promises designed to reassure shareholders and stabilize its share price:
1. It announced that Sinochem International Corporation and Nantong Industries Holding Group, the company's two largest shareholders have promised not to reduce their stock holdings for at least the next six months
2. Nantong Jiangshan's directors, supervisors and senior executives have also guaranteed that they will not sell any company shares for six months
3. The company pledged to undertake further measures to placate its shareholders, including offering equity incentives.
Zhejiang Wynca
Zhejiang Wynca's shares dipped even more dramatically over the same period, from USD3.38/share (RMB20.64/share) to USD1.41/share (RMB8.62/share), a decline of over 58%.
This prompted the company to initiate a trading halt on July 8. This temporary reprieve gave the company time to reorganize its finances:
On July 11, Zhejiang Wynca announced that it would invest USD4 million (RMB25 million) to increase its equity in Chongyao (Shanghai) Technology to 50%.

Meanwhile, the company raised USD24.9 million (RMB152.3 million) by selling 5.68 million shares (or 33.4% equity) in Hangzhou Research Institute of Chemical Technology to Zhejiang Jolly Holding Group at USD4.4/share (RMB26.8/share).
On July 13, the company resumed trading.
Lier Chemical
The crash has knocked 46.5% off the share price of Lier Chemical in the past month, from USD6.1/share (RMB37.5/share) to USD3.3/share (RMB20.1/share).
This has prompted the company to adopt a number of tactics in a bid to contain the panic:
Lier Chemical has encouraged shareholders to increase their stock holdings. Sichuan Forever Holding Co. has already agreed to increase its equity and not to reduce its holdings for at least six months

The company has also encouraged senior executives to increase their holdings. Gao Wen, the director of Lier Chemical, bought 100,000 shares and more purchases could follow in the near future

The company directors, supervisors and senior executives have also released a commitment to not reduce their stock holdings for the next six months

Lier Chemical will refinance through a share placement. The company's three largest shareholders (which between them own over 60% of the shares) have all agreed to fully subscribe the share placement.
Jiangsu Yangnong
Jiangsu Yangnong's stocks have taken a 51.7% hit in the past month, falling from USD8.0/share (RMB49.1/share) to USD3.9/share (RMB23.7/share).
Shenghua Biok
Fortunately for Shenghua Biok, it has been under a trading halt since March due to an ongoing non-public offering, meaning that the company has been shielded from the effects of the crash up to this point.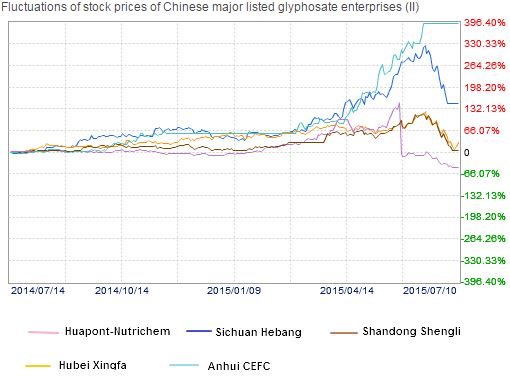 Source: Sina.com.cn
Shandong Shengli
Shandong Shengli's stock price has slumped by 52%, from USD2.1/share (RMB12.5/share) to USD1.0/share (RMB6.0/share).
This prompted the company to halt trading on its stocks on July 8 on the grounds that it was planning some major issues. Three days later, the company announced that it would be taking four measures to ensure future stability:
1. Shareholders and senior executives promised to increase their stock holdings over the next twelve months
2. Shandong Shengli would also encourage its staff to increase their stock holdings through an ESOP, equity incentives and other methods
3. The company promised that no shareholders with over a 5% stake in the company, directors, supervisors or senior executives would reduce their holdings through the secondary market
4. The company also vowed to accelerate its strategic transformation through mergers and acquisitions, with the goal of restructuring its business towards the clean energy and natural gas sectors.
CEFC Anhui
CEFC Anhui halted trading on its stocks on June 15 for an assets reorganization, so it managed to largely avoid the effects of the crash. However, industry insiders worry that its stock price may plummet as soon as trading resumes.
Sichuan Hebang
Sichuan Hebang also halted trading, though slightly later on July 3, as the company was planning to set up a private bank through sponsorships. However, on July 11 Sichuan Hebang was forced to announce that this plan had failed to win government approval and trading on its stocks resumed on July 13.
Between June 12 and July 10, Sichuan Hebang's shares declined 41% in value from USD4.7/share (RMB28.5/share) to USD2.8/share (RMB16.9/share).
Hubei Xingfa
Hubei Xingfa released a statement on July 10 with the following announcements:
1. Yichang Xingfa Group, the controlling shareholder of Hubei Xingfa, plans to invest at least USD3.3 million (RMB20 million) in increasing its holdings in the company within the next two months
2. Hubei Dingming Investment also plans to invest at least USD1.6 million (RMB10 million) in the company within the next six months
3. Hubei Xingfa pledges that if its closing stock prices are lower than the net asset value per share audited in 2014 for five trading days or more during the period July 9 – September 9, the company will initiate a share buy-back scheme.
CCM will continue monitoring closely how China's glyphosate market is affected by the crash and we will release regular updates on the situation in our Glyphosate E-Journal.
For more information on CCM and our coverage of China's agrochemicals market, please visit www.cnchemicals.com or get in touch directly by emailing econtact@cnchemicals.com or calling +86-20-37616606.
---
Reads

(3117)

Permalink