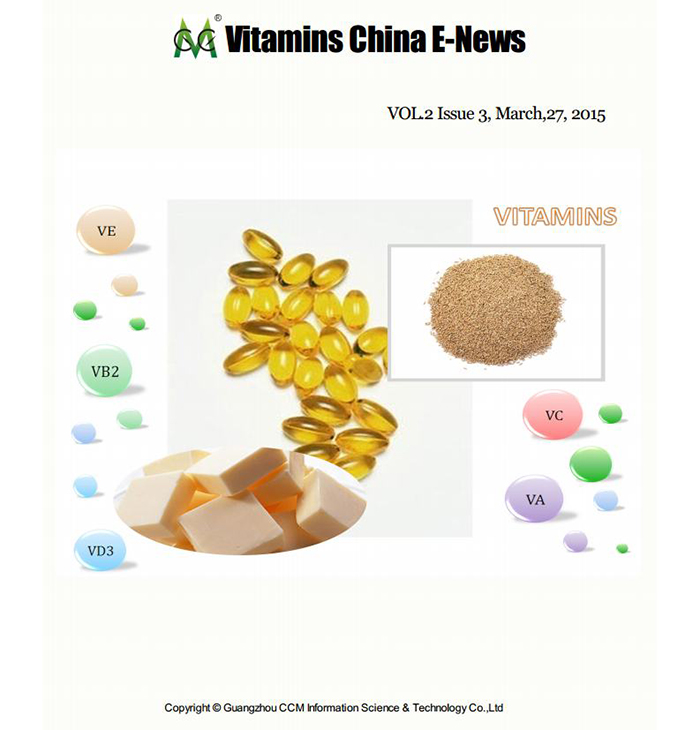 Here is a roundup of all the biggest news in China's vitamins market from the last four weeks, brought to you by CCM.
You can find more detail on these stories, along with more news, market data, and in- depth analysis in the March issue of CCM's E-Journal Vitamins China E-News.
If you would like to take a no-strings Free Trial of Vitamins China E-News for two months, send us an email to econtact@cnchemicals.com and we'll happily set it up for you.
Now, here's the news:
Guangji Pharmaceutical (Mengzhou) resumes VB2 production
On February 27, 2015, Hubei Guangji Pharmaceutical Co., Ltd. (Guangji Pharmaceutical) announced that its subsidiary, Guangji Pharmaceutical (Mengzhou) Co., Ltd., would resume VB2 production starting from February 28. Guangji Pharmaceutical (Mengzhou) had suspended production on January 25, 2015 for plant maintenance and the Spring Festival holidays. However, the halt in production did not exert a great impact on the company's VB2 sales as it had replenished stocks in preparation for the shutdown.
Guangji Pharmaceutical currently boasts VB2 production capacity of 5,000 t/a, of which 2,500 t/a belongs to Guangji Pharmaceutical (Mengzhou). Guangji Pharmaceutical loaned its subsidiary USD2.44 million (RMB15 million) in February 2015, so it is likely that Guangji Pharmaceutical (Mengzhou) will expand its VB2 production in the future.
Figure: Market price of 80% feed grade VB2 in China, Jan. 2014- Feb. 2015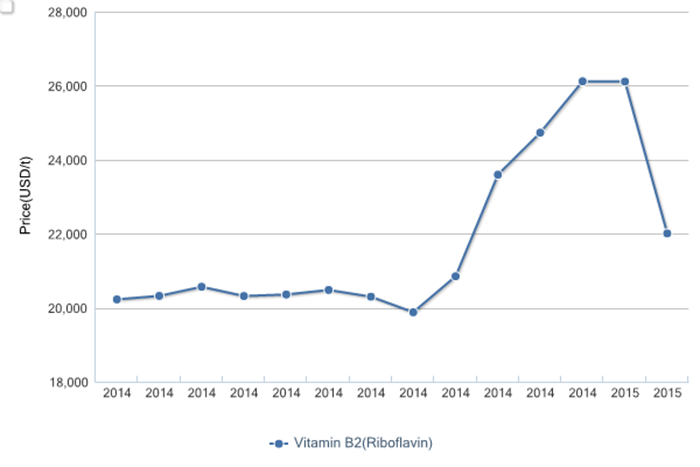 Source: CCM
Healthcare products listed in Hainan offshore duty-free products
On February 16, 2015, China's Ministry of Finance published the Announcement on Further Adjusting Offshore Duty-free Products in Hainan, which came into force on 20 March. 17 products have been added to the List of Offshore Duty-free Products. All of the included products are directly related to daily life, and include baby formula, healthcare products and domestic air purifiers. Tourists are now also able to purchase up to 8 healthcare items weighing no more than 3kg duty-free, including vitamins, fish oil, and collagen protein.
Domestic tourists are also allowed to purchase certain items on the island without taxation (including tariff duties, consumption tax and business tax).
Government rejects Garden Bio-chemical's proposal for new VD3 pesticide technical project
On March 6, 2015, China's Ministry of Industry and Information Technology (MIIT) released the Notice of new pesticide enterprises in disapproval of 2014 (Second batch). The document announced that the department had rejected Zhejiang Garden Bio-chemical High-tech Co., Ltd. (Garden Bio-chemical)'s application to construct two new projects - a 97% VD3 pesticide technical project and a 4,000 t/a VD3 rodenticide project.
MIIT stated that the government would not approve the new pesticide enterprise's application on account of the large number of pesticide companies already operating in China, as well as the low concentration and overcapacity in the industry. Instead, MIIT encouraged companies to increase their M&A activity and to eliminate their outdated capacity.
According to Garden Bio-chemical's 2014 prospectus, its new VD3 rodenticide will expand the applications of VD3 and extend the VD3 supply chain.
Brother Enterprises forecasts satisfactory performance in Q1 2015
On March 9, 2015, Brother Enterprises Holding Co., Ltd. (Brother Enterprises) issued its Q1 2015 earnings pre-announcement. The company estimated net profits of USD1.92 million-USD2.20 million (RMB11.80 million-RMB13.50 million) for Q1 2015, a year-on-year increase of 239.15%-288.01%.
According to the announcement, the key driver of this improved performance is an increase in VB1 prices and higher gross profit margins for Q1 2015. According to CCM's research, the domestic market price of 98% feed grade VB1 was 26,089USD /t in February 2015, up by 42% year on year.
Figure: Market price of 98% feed grade VB1 in China, January 2013-February 2015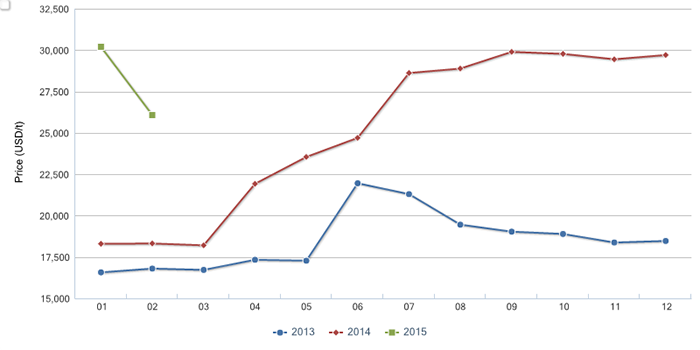 Source: CCM
Nenter announces breakthrough in 2,3,6-Trimethylphenol synthesis technology
On March 21, 2015, Nenter & Co., Inc. (Nenter) announced that its attempts to synthesize 2,3,6-Trimethylphenol using chiral catalysis technology had been successful. 2,3,6-Trimethylphenol is the raw material to synthesize 2,3,5-trimethyl hydroquinone, an intermediate product for vitamin E. This technology promises not only to ease the shortage of raw materials for VE but also to reduce production costs.
The company stated that its 2,3,6-Trimethylphenol capacity will reach 10,000 t/a after implementing this new technology, raising its market share to 90%.
State to increase funding for medical care
On March 5, 2015, Premier Li Keqiang delivered a report on the government's plan for 2015. He pointed out that the government should improve access to basic medical insurance for urban and rural residents, and increase annual financial subsidies from RMB320 (USD52) to RMB380 (USD61.8) per person.
Industry insiders believe that the increase in state support for medical care will create opportunities for the pharmaceutical and healthcare industries. Xie Xuren, formerly a minister in China's Ministry of Finance, stated that 2015-2035 will be a period during which China's population will age rapidly, with the elderly population rising from 212 million in 2013 to 418 million in 2035, an average annual increase of 10 million people.
Zhejiang Tianxin's VB6 passes GMP audit
On February 25, 2015, Zhejiang Tianxin Pharmaceutical Co., Ltd. (Zhejiang Tianxin)'s VB6 passed a GMP audit by the AFA. This will be beneficial to the company's hopes to exploit the Spanish market.
The VB6 market in Span is expected to grow, creating opportunities for Zhejiang Tianxin's export business. According to China Customs data, China exported 60.62 tonnes of VB6 to Span in 2014, a 79% year-on-year growth rate. Exports to Spain accounted for 1.3% of China's total VB6 exports.
Shengda Pharmaceutical resumes VB7 and VB9 production
On March 23, 2015, Zhejiang Shengda Pharmaceutical Co., Ltd. (Shengda Pharmaceutical) restarted production on its VB7 and VB9 production lines. Production had been suspended from February 15. The company's resumption of VB9 production is intended to ease the current supply shortages in the domestic market. Since January 2015, VB9 prices have risen continually due to insufficient supplies. The price of 98% feed grade VB9 was up to 195,666USD/t in February 2015.
In 2014, Shengda Pharmaceutical's output of VB7 and VB9 was over 60 tonnes and 100 tonnes respectively.
Figure: Market price of 2% feed grade VB7 and 98% feed grade VB9 in China, January 2014-February 2015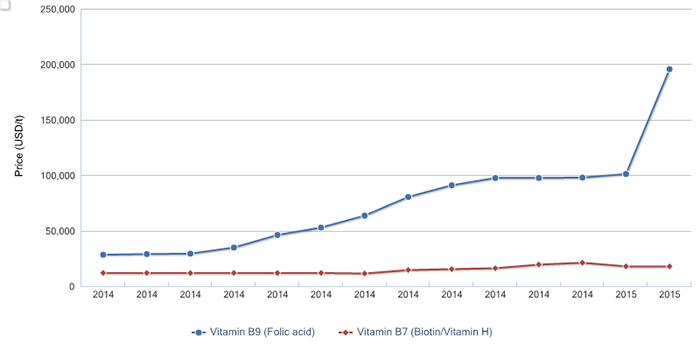 Source: CCM
API enterprises to be hit by tougher environmental protection regulations in 2015 The Chinese government has introduced tighter supervision and regulations on pollution in 2015, as well as tougher punishments for companies found to be discharging pollutants illegally. API enterprises will therefore carry a heavier environmental protection burden in 2015…
Kindomway reports big leap in net profits in 2014
Xiamen Kingdomway Group Co., Ltd. (Kindomway) published its 2014 annual report in March. According to the report, the company's profits soared in 2014 due to increased sales of Coenzyme Q10 and the rise in sales prices of its Vitamin A products. In 2015, the company will focus on developing the healthcare products market…
Zhejiang NHU seeking new profit growth
In 2014, the competition in China's VE industry was intense, which made it a tough year for Zhejiang NHU. However, the company has ambitious plans to expand its businesses and increase profits in 2015...
Garden Bio-chemical reports YoY growth in net profits in 2014
On February 27, 2015, Garden Bio-chemical released its 2014 earnings pre-announcement, reporting a YoY growth in net profits. The company attributes this rise primarily to the rise in VD3 prices...
Zhejiang Medicine focusing on health food and food preparation businesses
Zhejiang Medicine reported a drop in both revenue and net profits in 2014 compared to the previous year. However, the company is actively promoting the development of many new businesses and products…
Year-on-year rise in export value of Chinese-manufactured VA in January 2015
In January 2015, the export volume of VA was almost identical to that in the same period last year, while the value of these exports rose year-on-year due to significantly higher export prices compared to the same period last year. CCM predicts that VA export prices will drop in the near future…
VB2 exports from China decrease in volume but rise in price in January 2015
According to data from China Customs, China's export volume of VB2 was down 30% year- on-year in January 2015, while export prices were 14% higher than during the same period last year. China's VB2 market has been following this trend since September 2014. If it continues, Chinese VB2 manufacturers are likely to find it increasingly difficult to export to Europe…
VB12 prices to remain high in 2015
In Q1 2015, VB12 prices continued rising in China after one manufacturer suspended production due to the implementation of a rigorous new environmental protection policy. CCM predicts that VB12 prices will remain high for the rest of 2015…
VK3 prices continue to drop
VK3 prices in China have fallen continually since June 2014. However, CCM expects prices to rebound later in the year...
VB7 prices decline further
The market price of VB7 in China started to fall in January due to increasing supply, and this trend continued in March. Nevertheless, CCM estimates that prices will soon rise again...
Surge in new entrants to folic acid industry in 2015
A spike in folic acid (VB9) prices in H2 2014 has attracted a flood of new entrants to the industry. However, CCM fears that the rapid expansion of production capacity will tip the industry back into overcapacity…
VE prices still a few months from bottoming out
VE prices in China have continued their descent in 2015, with ferocious competition among producers the primary factor. CCM predicts that VE prices will stay low or could even drop further in the short term, but should rise in the long term...
About CCM
CCM is dedicated to market research in China, Asia-Pacific Rim and global market. With staff of more than 150 dedicated highly-educated professionals, CCM offers Market Data, Analysis, Reports, Newsletters, Buyer-Trader Information, Import/Export Analysis, and Consultancy Service. For more information, please visit http://www.cnchemicals.com
Guangzhou CCM Information Science & Technology Co., Ltd.
17th Floor, Huihua Commercial & Trade Mansion, No.80 Xianlie Zhong Road, Guangzhou 510070, China
Tel: 86-20-37616606
Email: econtact@cnchemicals.com
This article was provided by CCM, a leading provider of data and business intelligence on China's chemicals market.
Contact us:
---
Reads

(3361)

Permalink