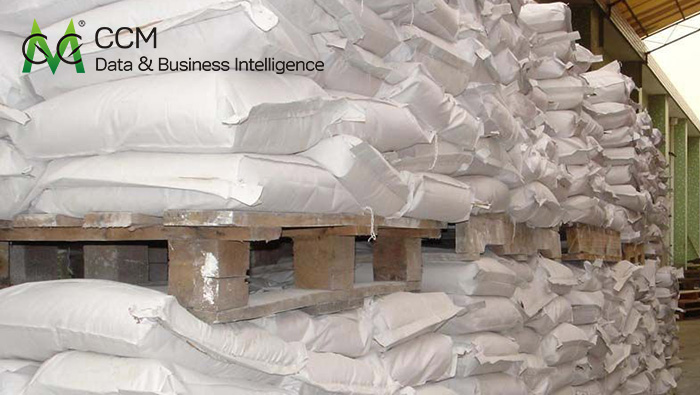 Jilin Gpro has announced a trading suspension taking effect on May 18, 2015. CCM believes that this could be a signal that the company is expecting to confirm a big M&A deal in the near future, with Jiangsu Zhentai, a subsidiary of Jiangsu Taibai, the most likely target.
For real-time intelligence on China's TiO2 market, try CCM's TiO2 E-Journal. You can claim two months of free access to E-Journal here: www.cnchemicals.com/Special/SPFreeTrial.aspx
On the evening of May 17, Jilin Gpro Titanium Industry Co., Ltd. (Jilin Gpro) announced a trading suspension to take effect the next day, citing company activity as the reason for the move. The company promised to release more information about its activities shortly.
Jilin Gpro's stock price had soared over 34% during the previous ten days, from USD2.62 (RMB16.00) per share on May 7 to USD3.49 (RMB 21.34) per share yesterday, which indicates that a merger is soon to be announced.
The fact that the stock prices of China's other listed TiO2 producers - CNNC Hua Yuan Titanium Dioxide Co., Ltd., Anhui Annada Titanium Industry Co., Ltd. and Pangang Group Company Limited (Henan Billions Chemicals Co., Ltd. has suspended trading to merge with Sichuan Lomon Titanium Co., Ltd.) – have shown no significant increases over the same period underlines this point further.
Though no official announcement has been released yet, CCM believes that Jiangsu Zhentai Chemical Co., Ltd. (Jiangsu Zhentai), a subsidiary of Jiangsu Taibai Group Co., Ltd. (Jiangsu Taibai), is the most likely target for a merger.
A deal between Jilin Gpro and Jiangsu Zhentai has been expected since early 2013, when the Zhenjiang City local government in Jiangsu Province organized an assets recombination program encouraging local companies to attract investment through mergers and acquisitions. At that time, Jilin Gpro announced that it would invest over USD1.63 billion (RMB10 billion) in Zhenjiang City over the next three years.
Rumors of a deal were revived again in December 2013, when CCM heard from numerous sources inside China's TiO2 industry that Jilin Gpro was on the verge of acquiring Jiangsu Taibai. Employees of Jiangsu Taibai even claimed at the time that the purchase has been finalized.
However, surprisingly, no official announcement of the deal has ever been released. In September 2014, several senior officials within one of Jilin Gpro's competitors informed CCM that a deal had nearly been completed but that Jilin Gpro was hesitating due to the losses being made by Jiangsu Taibai. Jilin Gpro refused to comment on these assertions.
It is possible that the merger of Henan Billions and Lomon, two of China's largest TiO2 producers, finally convinced Jilin Gpro to complete the acquisition. Once the Henan Billions-Lomon merger is finished, the new company will have a combined production capacity of 520,000 t/a, making it by far the largest producer in China and the fourth largest producer worldwide.
By contrast, Jilin Gpro currently operates 100,000 t/a of sulfate process capacity, with another 80,000 t/a sulfate process facility expected to be put into production later this year. If the company acquires Jiangsu Taibai as expected, the company's total capacity will rise to 260,000 t/a, making it the second largest producer in China after Lomon.
CCM will continue tracking this story and will release further updates via E-Journal, our real-time intelligence service for China's TiO2 market. You can get two months of free access to E-Journal here: www.cnchemicals.com/Special/SPFreeTrial.aspx
About CCM
CCM is dedicated to market research in China, Asia-Pacific Rim and global market. With staff of more than 150 dedicated highly-educated professionals, CCM offers Market Data, Analysis, Reports, Newsletters, Buyer-Trader Information, Import/Export Analysis, and Consultancy Service. For more information, please visit http://www.cnchemicals.com
Guangzhou CCM Information Science & Technology Co., Ltd.
17th Floor, Huihua Commercial & Trade Mansion, No.80 Xianlie Zhong Road, Guangzhou 510070, China
Tel: 86-20-37616606
Email: econtact@cnchemicals.com
This article was provided by CCM, a leading provider of data and business intelligence on China's chemicals market.
Contact us:
---
Reads

(2179)

Permalink