China has announced plans to cut the amount of land used for corn cultivation by 1.3 million ha over the next two years, a move that could have far-reaching effects for global grain markets, according to analysts CCM.
Though the full details of the new policy - named the Structure Adjustment Plan on Corn Planting Area in the 'Sickle-Shaped Region' (2016-2020) - have not yet been published, a statement released by China's Ministry of Agriculture (MOA) on September 2 confirmed that the policy will include targets to reduce the total area of land used for corn cultivation by 666,666 ha by 2016 and 1.3 million ha by 2017.
A large amount of land will also be converted from producing grain corn to growing silage corn.
"The new policy is aimed at dealing with high corn inventory levels and soil eutrophication", said Yu Xinrong, China's Deputy Minister of Agriculture.
A full policy document will be published 'soon', according to the statement.
Corn cultivation in China, 2014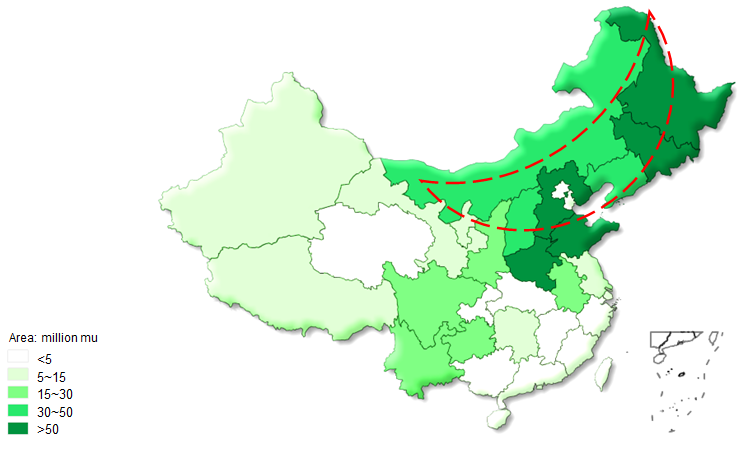 Source: CCM
Cutting corn
The target to reduce the amount of land being used for corn production in Northeast China - often referred to as the 'sickle-shaped region' due to the region's appearance on maps of China - by 1.3 million ha over the next two years is intended to deal with the side effects created by China's 'temporary purchase and storage policy' for grain, in which the government agrees to purchase a set amount of corn from farmers each year at a fixed price even if the market price drops below that figure.
The policy, which has been in place since 2008, has gone far beyond its original aim of shoring up China's food security and has led to the country's corn output ballooning each year as farmers cash in on the generous price offered by the government.
By 2014, China's corn output had risen over 30% from 2008 levels and the total area of land used for growing corn was 21% higher than in 2008, according to data from China's National Bureau of Statistics.
This has created a number of problems, as Mai Xiaoying, editor of Corn Products China News, explains:
"The government is finding it impossible to sell this extra corn, partly because output has risen quickly, and partly because the 'purchase and storage policy' has kept corn prices artificially high," said Mai.
"In 2014/15, the government purchased 83 million tonnes of corn, but between May 2014 and August 2015 it only managed to sell around 30 million tonnes. As a result, the country's corn inventory keeps growing. China is now storing over 110 million tonnes of corn, which is completely unsustainable."
The removal of 666,666 ha of land from corn cultivation next year will reduce corn output by around 5 million tonnes, which should reduce the pressure on storage facilities somewhat.
From grain corn to silage corn
Another key goal outlined in MOA's statement is to increase agricultural efficiency by cutting down the amount of land used for producing grain corn - corn that can be used for food production - and convert this land to producing silage corn - corn used only to produce animal feed.
Only 4.3% of the total corn produced in China last year was silage corn, according to MOA, but about 60% of Chinese corn is used to produce feed. As a result, a huge amount of grain corn, which is more expensive and produces lower yields than silage corn, is needlessly being used as raw material for feed.
"Silage corn enjoys high yields and is easy to grow, compared to edible corn. Thus, this move will help reduce production costs for feed manufacturers by better utilizing the land, increasing the corn yield and changing the supply patterns of raw materials for feed in China", stated Mai.
This is also likely to have a knock-on effect on global grain markets as corn prices in China become more affordable for feed manufacturers.
In recent years, high domestic corn prices have forced Chinese feed manufacturers, many of whom are unable to import corn cheaply due to restrictive import quotas that favor state-owned companies, to ramp up imports of substitute grains such as DDGS, barley and sorghum.
Sorghum imports, for example, have skyrocketed from just 84,000 tonnes in 2011 to a forecasted 10 million tonnes in 2015, encouraging growers in the US and Australia to increase production significantly.
However, Mai expects the Structure Adjustment Plan to make imported grain less attractive to China's feed industry:
"The corn supply will not be influenced [by the Structure Adjustment Plan] because both the reduced volume and the planting area for silage corn are small. However, the corn price will decline because of the reduced production costs.
"The price performance of substitutes for corn will also fall. The growth of the import volume of substitutes will probably slow significantly," Mai added.
However, some industry insiders have questioned whether the Structure Adjustment Plan will be effective due to the lack of adequate incentives for farmers to switch from growing grain corn.
"The adjustment will encounter major challenges if China only relies on policy guidance or regulations without implementing financial incentives", said Jing Qin, spokesperson for Inner Mongolia Jinmu Prataculture Co. Ltd. "The government should increase subsidies for planting forage grass, coarse cereals and soybeans, or reduce the purchase and storage price of grain corn. These incentives are necessary to encourage farmers to alter their planting structures."
CCM will publish a more detailed analysis of the likely effect of the Structural Adjustment Plan once the full policy document is published in Corn Products China News, our newsletter providing breaking news, market data and expert commentary on China's corn products market.
More information on China's corn market:
Market Data - regular updates on the price, production, consumption, manufacturing costs and leading producers of corn products in China. Find out more...
Trade Analysis - detailed data on the import/export of corn products in China, including detailed data on Chinese suppliers and traders and what prices they are offering. Find out more...
---
Reads

(1735)

Permalink