CCM announces the release of a comprehensive market and opportunity report on mogroside V market in China. China's demand for mogroside V is forecasted to increase over 400% by the year 2019. Major factors driving growth in China's mogroside V market include a good trend in its downstream market, the beneficial policy and the increasing supply of mogroside V from the producers.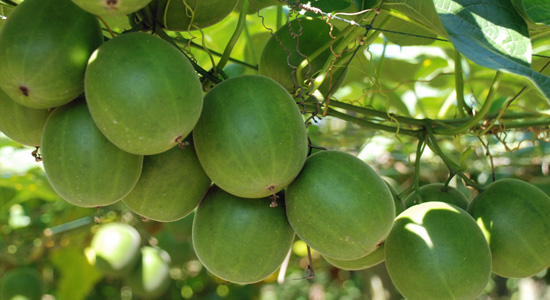 Mogroside V, the major sweet component of monk fruit (luo han guo in Chinese), is often used as a natural sweetener. And its sweetness is about 350 times sweeter than that of sucrose.
At present, China is the largest producer and exporter of mogroside V. The output volume reached 260 tonnes in 2014 and more than 90% of its total domestic output has been exported to the US and Japan. Some large Chinese mogroside V enterprises like Guilin GFS Monk Fruit Corp. and Chuzhou Runhai Stevia High Tech Co., Ltd. are 100% for export, as stated by the latest market research report on mogroside V.
Even if the domestic consumption of mogroside V is quite small in China, in 2014, about 80% of the total domestic consumption of mogroside V was mainly used by the beverage industry, thanks to its high sweetness, non-fermenting, low calorie and efficacy function.
However, CCM predicts in its market report that the domestic demand of mogroside V in China will witness a 400% growth in 2019 due to increasing demands from the downstream market, the beneficial government policy, and a growing supply caused by its improvement of planting technology.
The domestic consumption of mogroside V has kept on the rise gradually due to its downstream market: the increasing output of soft beverage, leisure food and pharmaceutical.
With mogroside V's advantages such as good taste, clearing away summer heat, good digestion, etc., the products in the downstream market are fond of using it as the addictive.
The output of the soft beverage has increased to about 170 million tons from 100 million tons during 2010 to 2014. Also, the market scale of China's leisure food industry has expanded rapidly, with the annual growth rate of about 25%. As for pharmaceutical, the overall trend of domestic output value is on the rise in recent years and this uptrend will continue in the future, according to CCM's report. CCM believes that the upward trend in the downstream market will drive the demand for mogroside V in China to some extent.
The increasing planting areas and the improvement of technology help drive the growth in Mogroside V demand in China.
The planting area of its raw material luo han guo has reached about 120,000 mu in 2015. Most of the luo han guo come from Yongfu, Lingui and Longsheng counties of Guangxi Zhuang Autonomous Region. With the improvement of its planting technology, its output had reached about 500 million in 2014. Take Longsheng County as an example, during 2004 to 2013, its planting area of luo han guo had reached to about 16,000 mu and the output of luo han guo is 190 million, according to CCM's report.
The policy would also do a favor for the growth of mogroside V demand in China. Mogroside V's application range is broader than any other sweetener. According to the GB2760 Standards for Used of Food Additives published and implemented in 2011, mogroside V can be added into all kinds of food without any limits. Thus, CCM believes that the domestic demand of mogroside V will rise gradually in the next few years.
Because of luo han guo's strict planting condition, it's only planted in China at present. With the predicted increasing demand of mogroside V in China, the importing countries or areas should prepare that China may grasp a part of the market share in the supply of mogroside V in the future.
The report titled "Market and Opportunity Research of Mogroside V from Luo Han Guo in China" announced by CCM, provides a comprehensive review of the mogroside market, current market trends, key growth drivers, the price forecast, the consumption pattern and the production scenario. The report provides the companies profiles of China's major mogroside V producers with its contact, product and production information.
For more details about this comprehensive market research report, please visit -
http://www.cnchemicals.com/Product/Report/2668-market_and_opportunity_research_of_mogroside_v_from_luo_han_guo_in_china_edition_1.html
About CCM:
CCM is the leading market intelligence provider for China's agriculture, chemicals, food & ingredients and life science markets. Founded in 2001, CCM offers a range of data and content solutions, from price and trade data to industry newsletters and customized market research reports. Our clients include Monsanto, DuPont, Shell, Bayer, and Syngenta. CCM is a brand of Kcomber Inc.
CCM
Telephone: 86-20-37616606
Fax: 86-20-37616968
Email: econtact@cnchemicals.com
Web Site: http://www.cnchemicals.com
---
Reads

(762)

Permalink