The Chinese government is restricting HCFCs' downstream application in order to upgrade the whole industry through the elimination in HCFCs' production, according to analysts CCM.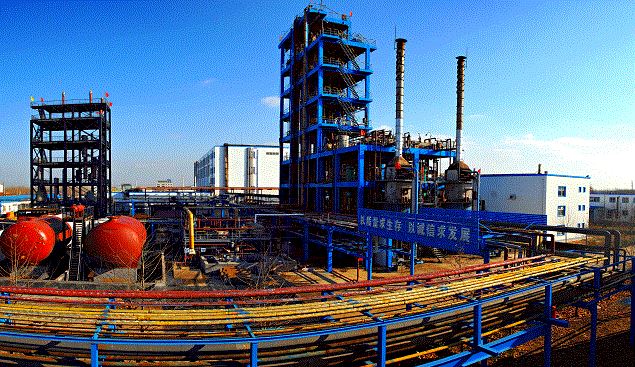 Source: Bing
"The Chinese government is decreasing the consumption quota of HCFCs in the industries of refrigeration and air-conditioning, and PU foaming. It indicates that China is accelerating the elimination in production as to promote its substitutes HFCs" stated Stanley Wang, Chief Editor of China Fluoride Materials Monthly Report.
In the end of Dec., 2015, the Ministry of Environmental Protection of the People's Republic of China (MEP) released the production quota of hydrochlorofluorocarbons (HCFCs) for year 2016.
In the meanwhile, this year, MEP also released the HCFCs consumption quota, which is covering in total 34 room air conditioner manufacturers, 18 industrial and commercial refrigeration and air conditioning enterprises, 11 polyurethane (PU) foam enterprises, 17 extrusion polystyrene foam enterprises, 1 cleaning enterprise and 1 pharmaceutical aerosol enterprise.
The production and consumption quotas involve 5 types of HCFC in particular, namely difluorochloromethane (HCFC-22), dichlorofluoroethane (HCFC-141b), chlorodifluoroethane (HCFC- 142b), dichlorotrifluoroethane (HCFC-123) and chlorotetrafluoroethane (HCFC-124).
Unlike year 2015, which witnessed a reduction of 10% YoY, the HCFCs production quota has yet to be further down-regulated this year, as it still presents an overall value equal to the one of the previous year. The quotas for HCFC-22, HCFC-141b and HCFC-142b amount to 274,279 tonnes, 66,313 tonnes and 22,845 tonnes respectively.
Year 2016 is however going to be the beginning of China's 2nd phase of HCFCs elimination. During 2016 and 2020, the Chinese government plans to eliminate 35% respectively of the HCFCs' production and consumption volumes of 2009-2010.
"Consequently, the equality of the production quota will be optimistically only temporary" said Stanley.
As for the consumption quota, except for an up-regulation in the extrusion polystyrene foam industry, the other industries are showing downward trends. Both industries are clearly displaying relatively large decreases.
In the industry of refrigeration and air-conditioning, the consumption of HCFC-22 has been reduced by 8.83% YoY to 67,059 tons, while in the industry of PU foaming, the consumption of HCFC-141b has been reduced by 27.25% YoY to 2,665 tonnes.
Production quota of HCFC-22 in China, 2016, tonne
Note: The quota for domestic use is part of production quota, indicating that its corresponding products are for domestic sale in China.
Source: Ministry of Environmental Protection of the People's Republic of China & CCM
Production quota of HCFC-141b in China, 2016, tonne

Source: Ministry of Environmental Protection of the People's Republic of China & CCM
Production quota of HCFC-142b in China, 2016, tonne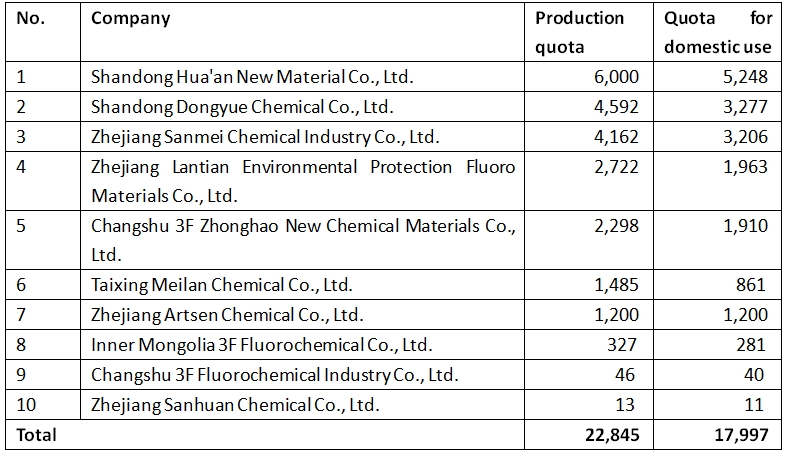 Source: Ministry of Environmental Protection of the People's Republic of China & CCM
Production quota of HCFC-123 & HCFC-124 in China, 2016, tonne
Source: Ministry of Environmental Protection of the People's Republic of China & CCM
Now that many substitutes such as hydrofluorocarbons (HFCs) have been improved for environmental protection and are finally mature both in technology and for commercial use.
"It's not difficult for downstream enterprises to apply them. They are also now capable to level up several performance indices for end products" said Stanley.
For instance, HFC-410a (a 1:1 mixture of difiuoromethane – HFC-32 and pentafluoroethane – HFC-125), a substitute for HCFC-22 in the field of household air conditioner, is now widely applied.
At the same time, air conditioners that use HFC-410a are mostly of variable frequency, which, compared to conventional HCFC-22 fixed frequency air conditioners, are more manageable in terms of energy-saving and temperature control. Thanks to this, the sales of HFC-410a air conditioners are now rising over 50% in the terminal consumption market.
MEP is recently promoting the application of some emerging substitution technologies, such as propane (R290) air conditioners. The main cause of this decision is the very low global warming potential (GWP) of R290, which is able to replace high-GWPed HFCs despite having zero ozone depletion potential (ODP). This is expected to be a significant step forward for the environmental-friendly application of refrigerants.
While favourable policies are advanced, the domestic enterprises, such as Gree Electric Appliances, Inc. of Zhuhai, Midea Group Co., Ltd., Haier Electronics Group Co., Ltd., TCL Corporation, China Yangzi Group Chuzhou Yangzi Air Conditioner Co., Ltd. and Sichuan Changhong Air Conditioner Co., Ltd., have officially launched R290 air conditioners onto the market.
In addition, it is specified in the First Catalogue of Recommended Substitutes for HCFCs (Exposure draft), which has been released in early June 2015, that the downstream should switch to natural products. For example, in the industry of refrigerant, it is better to use R290, isobutene (R600a), CO2 and ammonia, etc. As for the industry of foaming agent, it is suggested to use CO2, cyclopentane, n-pentane, isopentane, etc.
If you need more information about HCFC in China, why not get a free-trial of CCM's Online Platform? You can get much more information about HCFC or even the whole fluoride market in China for FREE!
About CCM:
CCM is the leading market intelligence provider for China's agriculture, chemicals, food & ingredients and life science markets. Founded in 2001, CCM offers a range of data and content solutions, from price and trade data to industry newsletters and customized market research reports. Our clients include Monsanto, DuPont, Shell, Bayer, and Syngenta. CCM is a brand of Kcomber Inc.
For more information about CCM, please visit www.cnchemicals.com or get in touch with us directly by emailingecontact@cnchemicals.com or calling +86-20-37616606.
---
Reads

(1723)

Permalink