PepsiCo Inc. (PepsiCo) recently announced that high-intensity sweetener

aspartame

will be re-used in its Coke (Diet / Light) in the US market. In retrospect, the company decided to remove this artificial sweetener last August due to safety concerns made by some consumers.
Source: Baidu
It's less than one year from its ban for aspartame to the reuse. Gina Anderson, the news spokesman of PepsiCo, explained that it can serve more choices for consumers to pick up free-sugar cola.
According to Beverage Digest, the sales volume of PspsiCo's Coke (Diet / Light) fell by 5.8% in 2015 and retail figure also dropped by 11% in the first quarter this year. Chen Wei, marketing expert in food and beverage, said that maybe aspartame with lower cost is a better choice when the company is under the big pressure of performance. Besides, aspartame is a kind of the most researched-thoroughly sweetener, therefore, it's safer for consumers in a sense.
Is aspartame a sweetener of high safety?
In fact, the controversy over the safety of aspartame has never been stopped.
According to CCM, aspartame is a kind of high-intensity sweetener, with sweetness 150-200 times higher than sucrose, and being ignorable contents of calorie and carbohydrates. This is why some carbonated beverage companies, including Pepsi Cola and Coca Cola, use it as ingredient of low-sugar products. What's more, it is applied in some diabetes foods, beverages and health-care products due to its advantages—low dosage, high sweetness, good taste, prevention of decayed tooth and so on. At present, there are more than 90 countries permitting using aspartame.
Tagged as "artificial synthesized", aspartame has been controversial all the time. Quite a few consumers hold the opinion that there is potential risk for aspartame to cause cancer, anxiety and phenylketonuria. However, no conclusive evidence is able to prove the harm of aspartame for several decades. Repeated tests upon its safety for food have been made by the Ministry of Public Health of China, the European Food Safety Authority and the U.S. Food and Drug Administration, comprehensively confirming its edible safety.
As early as in 1981, the U.S. Food and Drug Administration had approved the use of aspartame in some foods. Later in 1986, China also permitted aspartame to be added into foods except cans.
China's aspartame market develop quickly
According to CCM's research, the capacity of aspartame in China occupies about 60% among the world. Since 2011, China's aspartame industry developed at a high speed. CCM's data shows that China's aspartame capacity reached 26,300 tonnes and output about 15,000 tonnes in 2012. But in 2015, the two figures have touched 38,500 and 20,000, respectively. At present, most of aspartame enterprises in the globe are in China, with the big ones including SinoSweet Co., Ltd., Changzhou Niutang Chemical Plant Co., Ltd., Changmao Biochemical Engineering Co., Ltd. and so on.
Capacity and output of China's aspartame, 2012-2015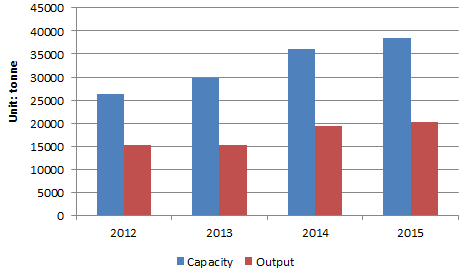 Source: CCM
From the perspective of domestic aspartame consumption, it has been applied in a wider range. The aspartame consumption in China reached 3,354 tonnes in 2015, up by 26.85% compared with 2,644 tonnes in 2012.
Consumption of aspartame in China's market, 2012-2015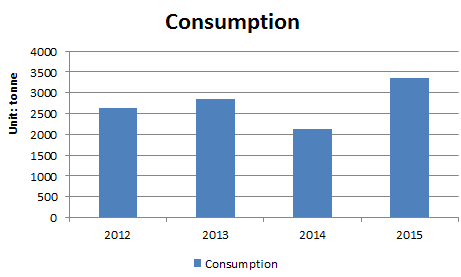 Source: CCM
In export, China's aspartame shows a tendency of rise in volume and drop in price these recent years. According to China Customs, China exported over 17,000 tonnes of aspartame in 2015, up by 97% compared with that in 2012. But its export price was USD11,223/t in 2015, down by 20% compared with that in 2012.
Export of China's aspartame, 2012-2015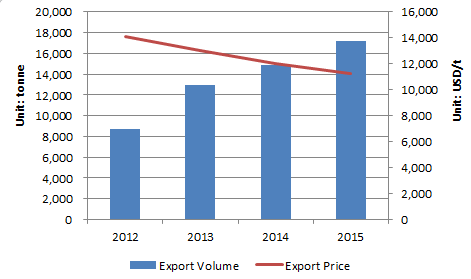 Source: China Customs
Currently, there are many substitutes and competitive products for aspartame, mainly including sucralose, saccharin, stevia, sugar alcohol, sucrose and so on. Fortunately, there is still huge market potential for sweeteners--including aspartame--in the future thanks to their advantages and consumers' higher-standard requirement for product diversity, according to the long-term deep research and study over sweeteners industry by CCM.
More related information in CCM's Online Platform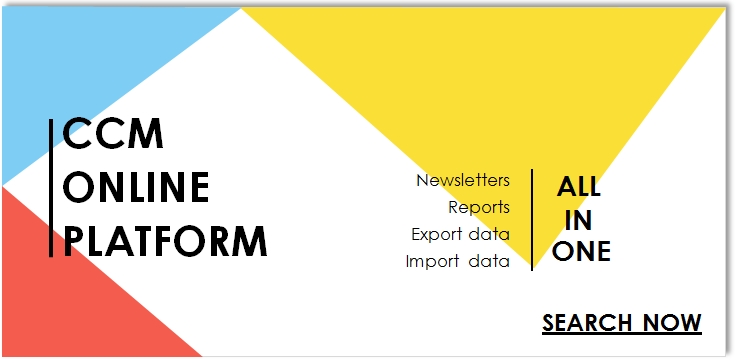 BOON: Now you can enjoy the free trial in the Online Platform for 7 days. If needed, welcome to contact us directly by emailing econtact@cnchemicals.com or calling +86-20-3761 6606.
About CCM:
CCM is the leading market intelligence provider for China's agriculture, chemicals, food & ingredients and life science markets. Founded in 2001, CCM offers a range of data and content solutions, from price and trade data to industry newsletters and customized market research reports. Our clients include Monsanto, DuPont, Shell, Bayer, and Syngenta. CCM is a brand of Kcomber Inc.
For more information about CCM, please visit www.cnchemicals.com or get in touch with us directly by emailing econtact@cnchemicals.com or calling +86-20-37616606.
---
Reads

(1317)

Permalink